Digital Developments 2016 - A Look Back
2016 may not have been the best year in terms of world history, politics and celebrity deaths but it has been a pretty spectacular 12 months for all things digital.
In an industry that's fast-paced by its very nature, things only seemed to move at an accelerated pace in 2016 with dramatic transformations taking place across all digital and social channels, causing fundamental shifts to the way we consume, produce, serve and market online.
Earlier this year we made our predictions for 2016's digital marketing evolution, so we thought it would be a good idea to come full-circle to see how they panned out alongside this year's many digital developments.
Data driven marketing
No one needed a crystal ball to predict that data would play a more integral role in digital marketing in 2016 - big data was of course the marketing buzzword of the year.
As expected, data has become the single most valuable marketing resource for many businesses and marketers.
In 2015, 78% of marketers said that data was embedded at the heart of their digital strategy. With innovations that occurred in this year alone, it's safe to say this number will have significantly increased for 2016.
At Engage, we anticipated that data would influence the structure of digital marketing teams, with companies hiring specialists to dissect and analyse data to provide valuable business insights. As it turns out, we at Engage have been impacted by this, which is why we're currently hiring a data and analytics specialist!
We also discussed how data driven personalisation would become a key lead nurturing and conversion tactic – using behavioural and contextual information to push users further down the funnel.
Engage is Ireland's only Episerver Premium Partner and, as personalisation is one of the primary features of this CMS, we have seen a startling increase in clients investing in this technology to put personalisation at the forefront of their digital strategies.
Video marketing
Cisco's Visual Networking Index suggests that by 2019, global consumer Internet video traffic will account for 80 percent of all consumer Internet traffic. If the rise of video in 2016 is anything to go by, we could be hitting that mark even sooner.
The sway towards video content, video marketing and video advertising has been one of the most exciting trends of 2016.
Video marketing was previously reserved for the bigger brands with even bigger budgets to produce professional, almost cinematic quality content. But now, with Facebook, Instagram, Snapchat and YouTube, smaller brands have access to video production.
We've loved seeing how smaller and local businesses have used the more transient video platforms like Snapchat and Instagram Stories to create a more authentic brand voice and connect with their audience on a more one-to-one level.
Snapchat in particular has seen exponential growth. Although many predicted that it would die at the hands of Instagram Stories and Facebook Live, in 2016, Snapchat counted 100 million daily active users, with 10 billion snaps being watched every single day.
And, interestingly, Ireland is the top country for Snapchat usage.
Micro moments
More Google searches now take place on mobile and, according the eMarketer, mobile ad spend will account for 70% of digital ad spend worldwide by 2019.
In our trends predictions post, we talked about how this mobile revolution would lead brands to concentrate on 'micro moments' – delivering real-time marketing messages to targeted consumers at a more precise moment to influence their purchase decisions.
To do this effectively, brands have been forced to place a greater focus on deeply understanding search traffic and modifying their website and landing page content to fulfil the immediate needs of customers.
When it comes to micro-moments in action, Nike has been a great example of this. With 63% of searches during major sporting events come from mobile devices, Nike analysed Google data to uncover that users were predominantly searching for sporting statistics whilst on their phones during games.
As a result, Nike launched the successful 3-D Phenomenal Shot campaign, which let fans around the world remix and share phenomenal moments from Nike Athletes in real time; just moments after play.
With brands like Nike as a leader, businesses of all kinds have been seizing the opportunity to shape customer actions by marketing 'in the moment'. One way of doing this on a much more modest budget is to create much more specific and targeted landing pages for keywords.
For example, within the travel industry, instead of creating a piece of content called "Top 10 Hotels In Northern Ireland", businesses could create a post called "Top 10 Boutique Hotels In Antrim" to capture traffic which is one significant step closer to conversion.
There's no doubt that the explosion of mobile will continue to shape the online customer journey and in 2017 we anticipate greater attention on mico-moment marketing, in conjunction with Google AMP (accelerated mobile pages) for fast, optimised content delivery.
Social commerce
Towards the end of 2015, we saw some small steps towards social commerce, such as the introduction of 'buy now' buttons and commerce friendly features on Facebook, Pinterest and Twitter.
And although social commerce didn't quite take over in the way we expected in 2016, there have been some more considerable advances towards this movement.
Facebook, in particular, has been heavily invested in developing ecommerce tools to attract e-tailers and online buyers.
In 2016, Facebook enabled businesses to expand their presence and sell products directly byactivating a 'store' tab, integrated with Shopify, BigCommerce, Wix and other ecommerce platforms.
Roughly 1% of ecommerce orders in Q1 of 2016 occurred from a direct social media referral – down from 2% in Q1 of 2015.
This signals that online customers prefer to purchase via other platforms; namely directly from websites which are more secure.
To counteract this, and bring social commerce to the mainstream, we foresee a big push from Facebook in 2017 to streamline their online buying processes and to introduce additional ecommerce tools from business pages and from Facebook Messenger.
Virtual reality
When 2016 kicked off, many predicted it to be the year of VR and while that didn't exactly happen, it certainly marked the beginning of an era of immersive technology.
Many big technology companies, such as Oculus, HTC and Sony launched impressive first-of-their kind virtual technology systems that sought to change how we consume media and interact with brands.
As these systems still need their flaws ironed out, VR didn't quite reach the mass market as quickly as first anticipated. The steep price of headsets, for example, limited access to only the most enthusiastic early adopters.
However, there were some great examples of VR marketing during the year which have paved the way for further and faster innovation in 2017.
Volvo was just one of the companies incorporating VR into their 2016 marketing strategy. For the launch of their XC90 SUV, Volvo created an app incorporating a virtual reality experience which allowed users to test drive their car.
Although the experience itself was reported to be 'a little fuzzy', it racked up 175,000 views on YouTube and gave Volvo a great competitive advantage within its market. Providing an impactful sensory experience for car buyers has set a new standard for car manufacturers.
With the VR software market size predicted to reach $24bn by 2020, we envision some weighty investment in VR marketing in 2017.
Augmented Reality
With all of the focus on virtual reality, it was surprising to see VR's cousin AR also have a moment in 2016.
Pokemon GO will go down in history as bringing AR the masses in 2016. When it launched in the summer of 2016, it was impossible to turn a corner without seeing someone downloading, playing or talking about the record breaking game; which is estimated to have over 500million downloads by the end of 2016.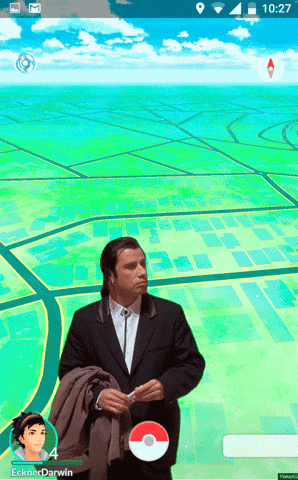 By giving people a taste of AR, big brands are rushing to incorporate this technology into their future digital marketing strategies.
As expected, a few companies have been quick off the mark, particularly within the retail sector where AR can give customers a tempting look at how products will look, feel and fit into their lives.
Tesco, for example, implemented AR with their soft furnishing products. Through their augmented Home Book catalogue, customers could visualise products within their home.
Lacoste is another brand who brought their mobile users an in-store virtual shopping experience, allowing customers to try on items such as trainers and share their experience across social media.
Want to find out what the next big thing will be? Read our digital predictions for 2017.